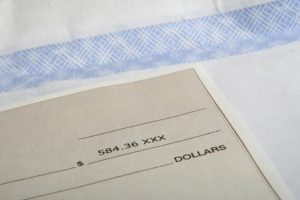 The Coronavirus Aid, Relief, and Economic Security Act, also known as the CARES Act (passed on March 27, 2020) is a $2 trillion economic relief package designed to help offset the huge financial crisis caused by the Coronavirus (COVID-19) pandemic.
A recent article on MedicaidPlanningAssistance.org says that many Medicaid beneficiaries who live at home, assisted living, adult foster care, or nursing homes and their families are worried the money will push them over the Medicaid income or asset limit, disqualifying them from Medicaid benefits.
Likewise, Medicaid applicants have the same concern that the additional cash will make them go over Medicaid's limits, and prevent them from becoming eligible for Medicaid.
Stimulus checks won't be counted as income and thus won't affect Medicaid beneficiaries or applicants. However, if the stimulus money isn't spent within 12 months, it may be counted as an asset.  This could impact eligibility in 2021.
Nursing Home Residents. The stimulus check to Medicaid beneficiaries who live in nursing homes won't affect their Medicaid benefits. The check doesn't disqualify anyone from Medicaid nursing home care. Medicaid won't count the money as income, which means it can't push one over Medicaid's income limit and mean the loss of Medicaid benefits. Although Medicaid-funded nursing home residents must surrender all of their income, except for a personal needs allowance and a monthly maintenance needs allowance for a non-applicant spouse (if applicable) to Medicaid, the money from the stimulus check won't have to be surrendered to Medicaid. The stimulus check won't count as assets, if it's spent within 12-months of receiving it.
Spouses of Nursing Home Residents. Spouses of nursing home residents—known as "Community Spouses"—who aren't on Medicaid themselves will receive a stimulus check. This won't affect their spouses' Medicaid eligibility in any way. The money from the stimulus check isn't considered income by Medicaid, and even if it were, the income of a non-applicant spouse isn't considered in the continuing Medicaid eligibility of his / her nursing home spouse.
There's no time limit in which a spouse of a nursing resident must spend his / her stimulus check.  Non-applicant spouses can spend the stimulus check any way they want.
Stay up to date on all COVID-19 updates for your estate plan by checking out our blog.
Reference: MedicaidPlanningAssistance.org (April 16, 2020) "Do COVID-19 Stimulus Checks Impact Eligibility for Persons on Medicaid? In Nursing Homes? Or Spouses?"