Northwest Iowa Elder Law and Estate Planning Firm
Welcome to Huizenga Law Firm, P.C.
Welcome to Huizenga Law,  Northwest Iowa's elder law and estate planning firm where every client is like family. We feel called to put 1 Timothy 5 into practice: "Do not rebuke an older man, but encourage him as you would a father. Treat younger men as brothers, older women as mothers, and younger women as sisters." At Huizenga Law every client is like family, and we take care of our family.
Some people refer to us as an estate planning attorney, elder law attorney, Medicaid planning attorney, nursing home planning attorney, or a long-term care planning attorney, but they all mean the same thing.  It means we help you plan for your healthcare and finances both while you are living and after you pass away.
At Huizenga Law, we don't spread our energy and efforts over a wide variety of areas. Instead, our legal team focuses on elder law and estate planning only. We set the bar high through our ethical, efficient, and effective counsel and the meaningful relationships we build with our clients and the community by insisting upon regular, honest communication with our clients during every step of our unique LegacyGuardTM planning process.
Sometimes open communication means having difficult conversations or asking hard questions. Our legal team promises to ask those questions and listen to the answers with the Christian principles of empathy and caring. We'll laugh with you, and we'll cry with you. Our law office is as safe and private as your own home, so you can feel comfortable sharing your hopes and dreams as well as your fears and concerns.
If you're here because you need help planning for or navigating the difficult transitions that come as we age, you came to the right place. Welcome to the Huizenga Law family.
What Our Clients Have to Say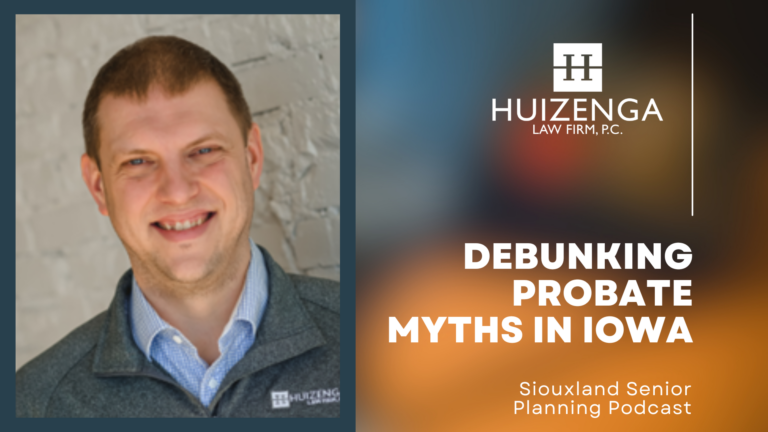 Iowa estate planning attorney Ethan Huizenga explains probate and answers the question, "Is probate really as bad as it seems?" If you have estate planning …
Watch our free, online  educational workshop to learn how to protect your home and life savings from the high cost of nursing home care. We will cover many important topics, like:
How to avoid having your life savings or retirement plans wiped out by the cost of care as you get older
How to protect the inheritance against your kids' debts, divorce, or disability
How to plan and pay for a nursing home
How to avoid the expenses and delays of probate and keep your affairs private
And so much more!
Siouxland Senior Planning Podcast
Tune into this estate planning podcast with host Ethan Huizenga today.