Unexpected events can happen at any time. Without emergency planning, finances are vulnerable. The importance of having an estate plan and organized legal and financial documents on a scale of one to ten is fifteen, advises the article "Are you prepared to hand over your finances to someone in an emergency?" from USA Today. Maybe it doesn't matter so much if your phone bill is a month late but miss a life insurance premium payment and your policy may lapse. If you're over 70, chances are slim to none that you'll be able to purchase a new one.
When estate plans and finances are organized to the point that you can easily hand them over to a trusted spouse, adult child or other responsible person, you gain the peace of mind of knowing you and your family are prepared for anything. Someone can take care of you and your family, in case the unexpected happens.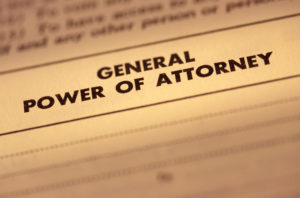 A financial power of attorney (POA) gives another person the legal authority to take financial actions on your behalf. The person you give this responsibility to, should be someone you trust and who will put your best interests ahead of their own. An estate planning attorney will be able to create a power of attorney that can be very specific about the powers that are granted.
You may want your POA to be able to pay bills, and manage your investment accounts, for instance, but you may not want them to make changes to trusts. A personalized power of attorney document can give you that level of control.
Consider your routine for taking care of household finances. Most of us do these tasks on autopilot. We don't think about how it would be if someone else had to take over, but we should. Take a pad of paper and make notes about every task you complete in a given month: what bills do you pay monthly, which are paid quarterly and what comes due only once or twice a year? By making a detailed record of the tasks, you'll save your spouse or family member a great deal of time and angst.
Is your paperwork organized so that someone else will be able to find things? Most people create their own systems, but they are not always understandable to anyone else. Create a folder or a file that holds all of your important documents, like insurance policies and investment accounts, legal documents and deeds.
If you pay bills online, naming someone else on the account so they have access is ideal. If not, then try consolidating the bills you can. Many banks allow users to set up bill payment through one account.
Keep legal documents and records up to date. If you haven't reviewed your estate planning documents in more than three years, now is the time to speak with your estate planning attorney to ensure that your estate plan still reflects your wishes. Call your estate planning attorney to discuss your next steps.
Reference: USA Today (March 20, 2020) "Are you prepared to hand over your finances to someone in an emergency?"