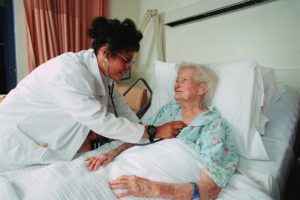 A recent article by Forbes entitled "Does Medicare Pay For Long-term Care? Don't Make A Big Mistake!" explains that there are several settings that provide long-term care. These include adult day-care centers, nursing facilities, assisted living facilities and residential care communities.
Many people think Medicare pays for long-term care because there are some services that Medicare Part A hospital insurance will cover, such as inpatient care in a skilled nursing facility (SNF) and home health care.  Medicare does pay for care that is "skilled." This is care that requires the skills of a registered nurse, physical therapist, occupational therapist, or speech-language pathologist. But if the average non-medical person can provide the care without additional training, the care is not skilled and Medicare won't pay for it.
A traditional long-term care insurance policy will pay or reimburse for some or all long-term care costs. Many have limits on how long or how much they will pay based on the person's health, financial status, age at application and other factors.  But there are other ways to help pay for long-term care.  Let's look at some other strategies for long-term planning:
Annuities. An annuity is a contract with an insurance company in which a person buys an annuity that the insurance company pays back over a defined period of time. There are now combination or hybrid products, meaning life insurance with a long-term care rider. These combine life insurance with long-term care insurance.
Health Savings Account (HSA). These funds can help cover many long-term care expenses. Qualified long-term care services include maintenance and personal care services that a chronically-ill individual needs.
Reverse Mortgages. This is a type of home equity loan that lets a senior mortgage holder borrow cash against the value of a home without selling it.
Charitable Remainder Trust. This trust lets a person's assets pay for long-term care services while also contributing to a charity and decreasing the tax burden. Payments from the trust can go to pay for long-term care services and, after death, the rest of the funds in the trust are given to the charity.
Medicare Advantage Plans. Some changes now let Medicare Advantage plans cover supplemental healthcare benefits for "daily maintenance." This may include ADL assistance, transportation to medical appointments, meals after hospitalization and even food for a service dog. Not every Medicare Advantage plan has these benefits, and remember that it's the Medicare Advantage plan, and not Medicare, that pays for these services.
Medicaid. One of the benefits of Medicaid is its long-term care coverage. You will not qualify for Medicaid, a shared federal-state program for people with limited financial assets, unless you meet the financial eligibility requirements. Medicaid attorneys can advise clients about "spending down" to meet the eligibility requirements.  For more information about our Medicaid process, click here.
If you think that Medicare will pay for long-term care or that this care involves long-term care insurance or living in a nursing home, you're in for a surprise. Talk to an elder law attorney about creating a long-term care plan—a personal strategy for handling decisions in the future.
Reference: Forbes (Jan. 14, 2020) "Does Medicare Pay For Long-term Care? Don't Make A Big Mistake!"