Staying at home isn't always affordable, according to a recent US News and World Report article. The article says about 80% of seniors are concerned about being able to afford home health care costs, based on a 2019 SCAN Health Plan survey. Paying for personalized in-home elderly care can add up quickly and isn't always easy on a senior's tight income.
If you're thinking about in-home elderly care, review these criteria to determine what costs to expect and the different payment options available for this type of care.
Find Out the Services Included in Home Care for the Elderly. In-home care varies depending on your health conditions and needs. You might get help if you're recovering at home from an illness or injury, and you could also have home care workers help you with daily activities, such as preparing meals and personal hygiene. Home care services often include rides to and from appointments, monitoring heart rate and blood pressure and in-home physical and cognitive therapy sessions.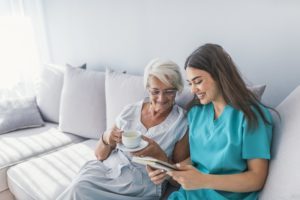 Think about the Level of Care Needed. If you can do most daily activities on your own, but could use help with certain activities, such as cooking or cleaning, home care might be a wise option. Home care is focused on the service, and it's supposed to help those who are living on their own as long as possible. When more care is required, moving to a place with more health support may be necessary. People who have significant needs may often look to assisted living as an alternative. Assisted living facilities offer more services, like 24-hour emergency care and ongoing supervision for seniors with Alzheimer's, dementia, or other disabilities.
Check Out the Cost of In-Home Senior Care. Homemaker services cost about $22.50 per hour on average and include tasks to help a person with duties like laundry, grocery shopping and light housework. A home health aide charges an average of $23 per hour and may help with administering medicine at scheduled times, supervising and monitoring chronic illnesses and helping with walking aids. Of course, the exact cost of these services depends on where you live and the amount of help you need. The monthly cost for in-home care ranges from $4,290 for homemaker services to $4,385 for home health aide care. This typically costs more than the monthly median cost for an assisted living facility but less than the median cost per month for a room at a nursing home facility.
Know Your Insurance Coverage. If you're on Medicare, you may be able to get coverage for some short-term home services. To do so, a doctor will need to indicate that skilled nursing care is needed for a short period of time. Medicare will cover speech therapy, occupational therapy, or physical therapy. You can also use it to help with the purchase of durable medical equipment and safety additions to your home. However, Medicare won't typically cover long-term home care services.
Medicaid will cover some health services at home, like cleaning and meal preparation, rides to and from medical visits and personal care. The Programs of All-Inclusive Care for the Elderly (PACE) is available in some states, if you have Medicare or Medicaid. It provides some care and services in the home to those who need a nursing home level of care. If you have long-term care insurance, some in-home services may be covered by your policy.
Look at Other Payment Methods. If your insurance won't cover in-home care, you might have to pay out-of-pocket. One way to lower costs, is by asking family members to help. If you need to hire more help over time, the cost for services will increase accordingly. If that doesn't work, they may help pay for in-home elderly care. You can also look at a reverse mortgage, which lets you borrow against your home's value.
Reference: US News and World Report (June 10, 2020) "Can You Afford In-Home Elderly Care?"