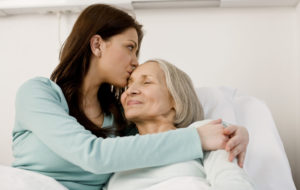 Not everyone is cut out for assisting older people because the job requires a unique skillset and, more importantly, empathy.  Big Easy's recent article says it can be hard to understand that a senior has become dependent on others, and being assisted in everyday tasks may even lead to compromises in their privacy. This can put a senior in stressful conditions that lead to anxiety. In that case, hiring a professional caregiver for the elderly may be the best option.
However, no matter your training, caring for an older person can still be challenging. Consider these five things to develop the best possible relationship with the elderly and to provide the best care.
5 Traits to Develop before becoming a Caregiver
1. Compassion
Being compassionate helps develop a better connection to the elderly person. This can frequently solve many behavioral problems and can make for a pleasant caregiving environment. Most older people have some physical or mental disability that keeps them from being independent. In some situations, being abandoned by their loved ones creates even more emotional damage. To help, be empathetic and kind to them in these difficult times. This can significantly help to decrease the emotional pain that accompanies old age and illness. Being compassionate is one of the most effective ways of delivering the best care possible in these situations.
2. Communication
If you have the ability to have natural and comfortable conversations with elderly patients, you can develop a tighter emotional bond with them. Healthy communication and conversations also can distract a senior from things that may be troubling them, which will not only benefit the patient but will also help you carry out your tasks more easily. You may also be called upon to interact with other family members or doctors, so good communication skills are required.
3. Safety
Safety is vital for the elderly, and the slightest negligence can become a matter of life and death for them. The most common types of injuries for older people are attributed to falls. It is also even more dangerous because their bones are weak and don't heal quickly. Use extreme care when assisting seniors in slippery areas, like the bathroom. Take precautions, such as de-cluttering the house and eliminating tripping hazards. Most importantly, keep them under constant observation, especially those with mental illnesses.
4. Hygiene
Maintaining quality hygiene can be a challenge, especially if people are shy or want their privacy. Take bathing as an example: it's not surprising that the elderly are embarrassed, when caregivers have to bathe them. Even so, you are tasked with maintaining their hygiene. If you don't, it can lead to more health-related issues.
5. Medications
Most seniors take medication, some of which produce side effects, such as nausea or dizziness. As a caregiver, you should make certain that they are taking their medicines on time and watch for side-effects in the case of an emergency. Review their medications and administer the prescribed dosage at the right times yourself. This will also help those who forget to take their medicines without prompting.
You may have several challenging times throughout your career as a caregiver for the elderly, but empathy and compassion will help you considerably. You will create a better job experience and help the elderly with a very difficult phase of their life.
Reference: Big Easy (Dec. 10, 2020) "6 Things to Consider as a Caregiver for the Elderly"